Everglaze – Tile with high gloss
The significant aesthetic effect and cool elegance, which emanates from the roof covered by Everglaze, runs through the precise quality of surface finish and total resistance of material. The modern design and linking of distinctive style with technical advantages will appeal to even the most demanding customers.
New technology of the surface finish assures a long lifespan, perfect appearance and strong architectural effect. Tranquil appearance and pure processing of details bring to the roof a touch of exclusivity.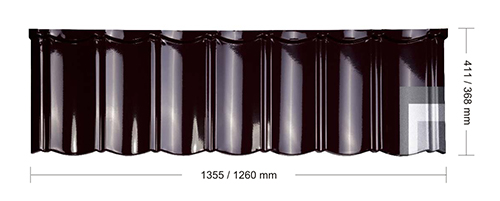 50 µm thickness of surface finish applied after forming, it is , compared to other common steel roof tiles, an incomparable standard of quality. Four colours and each with such a magic, that others are not necessary…..You just know, what you want and we are able to offer it to you.
The steel plate with ALUZINC anticorrosion protection, which is the basis for all types of tiles, is a guarantee of a six fold lifespan in comparison with common steel tiles.
EVERGLAZE are special roof tiles. You either dare to have it or reject it, but you will not look it over.