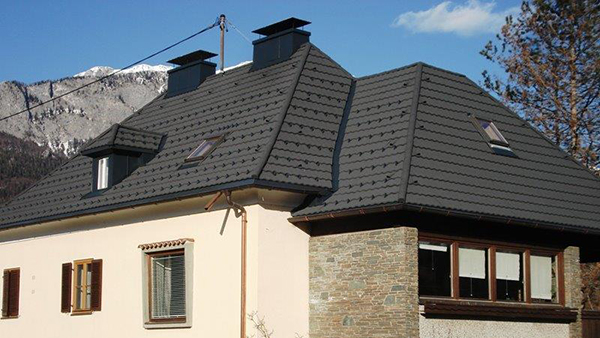 Evertile metal roofing tiles with up to 50-year product warranty.
Metal tiles can even be used for roofs with minimun 10° degrees. They are available with sanded and smooth surface. EVERTILE metal tiles are one of the most resistant roofing solutions against hail.
DS metal roofing sheets with up to 30 years warranty on the
coating for 25μ Polyester, 26μ Purex or 50μ Pural.
Metal roofing-sheets are ideal for renovations and can be assembled directly on a existing roof because of the low weight (only 4.8 kg / m²). Of course, you may also use DS metal roofing sheets for new constructions.
There are delivered with a lengths up to 8.0 m in one piece, are characterized by the highest hail resistance and are available in three different profiles.
GMS Sandwichpanels and Trapez sheets are building materials of highest quality.
The elements are available in a wide range of colours and are delivered in individual measurements. All our elements are an ideal choice for construction projects of all kinds, public buildings, companies, industrial buildings or buildings in the agricultural sector.